"A Leader is one who knows the way, goes the way, and shows the way." – John C. Maxwell
---
At the Son's Children, we place a very high value on education—not only for the children we serve, but the leaders who develop them! Literacy is extremely important to the growth and sustainability of our Learning Center, our curriculum, and our students. As we continue to learn, we place ourselves in a position to increase in understanding and capacity, all of which give God glory.
Here is a highlighted interview with one of our center's boots-on-the-ground-leaders, Yvette. I got the chance to speak with her while the kids were playing outside. I hope this gives you a glimpse into how staff at the Son's Children are taking advantage of educational training, and that you can see some of the immediate effects it's having in our classrooms.
B: Yvette, within childcare you would work with any age range from infant to 12 years of age. Why do you work with 3 and 4 year olds?
Y: Because once I started teaching them, I loved to see that "aha" moment when the light bulb turned on inside of them.
B: That is so good. So can you tell me about how you view education? How important is it to you?
Y: Education is and has always been important to me. I cared more about education than money! There's always knowledge out there. There's always something to gain. You never stop learning, and it's not always in books either. It's in people and things. Education is number one to me.
B: That's such a great perspective. I love that. So can you tell me, then, where the merger is between the education you're pursuing right now and how you approach teaching your kids?
Y: Their play. Play is so much more than just play, and I learned that in my class. Right now they're learning balance, problem solving, critical thinking, they're learning their emotions, how to socialize with one another, language skills, and brain development.
B: Alright. Do you think the children can tell the difference between a teacher that is continuing their education vs. one that isn't?
Y: That's a good question. I know they can tell, for instance, when a teacher is having a good day or a bad day. So, I think that if the teacher knows how to put their education to use in the classroom so the children can learn, the kids would be able to tell.
B: I understand, because the teachers approach their work differently when they have education in the areas they're teaching. Okay, so what are some of the immediate benefits that you're noticing in your classroom as a result of your education?
Y: For me, it's the way I come up with the activities now that I'm trying to teach them. They love to play and they learn best when they play. So I have to teach in the way that excites them.
B: That's wonderful. Now, let me ask you this. Were there any fears that you had to overcome in order to go back to school?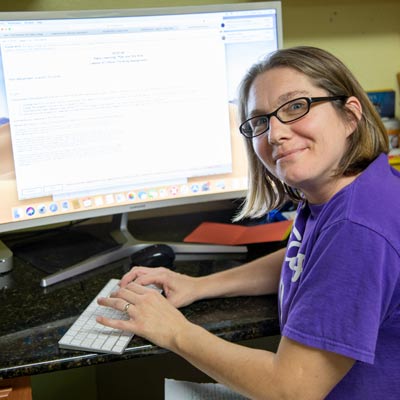 Y: I just had to stop being lazy and grow beyond my comfort zone. I've always loved school. I loved to teach myself, but I just grew comfortable in my life. So, I needed to reach out of that space. That was really the only fear I needed to overcome!
Yvette is taking immediate action as it pertains to the courses she's currently enrolled in. Further, we're already seeing how much of an impact continuing her education is having on her teaching style.
I hope this encourages you, whether you are a parent, community member, or partner, to see the wonderful benefits in education and how it is creating a culture of positive growth at the center. We will continue to advance in our learning so that we can effectively lead our future leaders!
After all, that is why we're here.
Blessings in abundance!
Blog article by Britnee Bradshaw